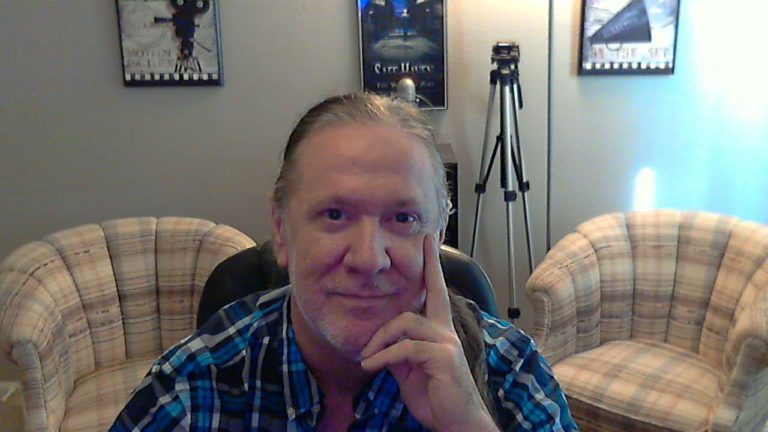 Meet Your New Video Demo Producer
Over the last 20 years voice over coach at VO101, Anthony Reece has personally trained, coached and produced voice over demos for hundreds of new voice talent, and veteran voice over artists.
After a lifetime working in the voice overs, broadcasting, animation, gaming, production, music, media and entertainment, the bio of voice over coach Anthony Reece is vast to say the least. Anthony has literally "been there done that", and then some.
From his early days as a night club dj, music vj, and spring break mc in Florida, to on-air work as a classic rock, metal, and top 40 radio dj, and touring as a keyboard player and vocalist, Anthony learned quickly how to create, record and deliver the goods as a professional creative talent:
His 35 plus years of hands-on, in-depth experience as a voice actor, sound producer, entertainment casting director, studio director and voice over talent, along with years as a voice over coach, studio head, award winning narrator and broadcast producer assures you're working with a veteran voice artist and unique, out-of-the-box thinking creative professional.
Anthony has literally produced, developed and/or directed hundreds of projects from sound tracks and voice overs for animation, cartoons, radio, tv, telephone messaging, short films, video games, dvd's, multimedia, phone apps, theme parks, magic shows, puppet shows and more. As a exp'd voice actor and voice talent himself, Anthony has personally voiced projects worldwide, not to mention his credits as a casting director on numerous gaming titles, broadcast spots, and other media projects.
Past clients have included, Universal Studios, NASCAR, HP, IBM, WaterPic, Google, OSHA, DOD, Island Watersports, PBS Kids, Blockbuster, Pepsi, Dannon Yogurt, ASU, CSU, DeVry, SC Johnson, Orange Crush, Dominos, Edward Jones and Company, Ticket Master, Ford, Bally Gaming, MGM, and countless gaming companies, concert promotors, animation studios, producers, advertising firms and more.
Anthony has broadcast station and business start-up credits as well including Z99 in the Cayman Islands, along with studio partnerships such as co-founding of The Spot Shoppe, a creative broadcast production company, which became VoiceART a pioneer first of it's kind internet radio studio with clients like the IMDB and Amazon.com.
In 1993, Anthony opened VoiceART which then merged in 2001 with Colorado based MediaTech Productions. While a partner at MediaTech Anthony created Teenation USA a live web based after school radio network for teens, and also cast, directed and voiced the dialogue for Jasper: The Story of a Mule animated by the late Bill Melendez of Peanuts, written and created by the daughter of the late Charles Schulz, Meredith Hodges.
In late 2005 voice over coach Anthony left his 14-year partnerships and founded VoiceTOONS which has since become one of the leading non-union character voice casting studios outside LA and NY. VoiceTOONS is now entering its 16th year in business.
Then as a way of "paying it forward" in 2006 Anthony created a voice over mentoring program and now coaches young voice actors, and veteran voice talent at VO101.com. Simply said, as a voice over coach, and in January 2022 voted 1 of the top 10 most trusted voice over coaches by voices.com, Anthony is one of the most diverse non-union voice over talents you'll find industry wide.
In 2010, Anthony Reece was awarded a FLMPA Crystal Reel Award for his narration work on the multiple award winning documentary Safe Haven: The Warsaw Zoo currently aired around the world, on the IMDB, inside the Holocaust Museum in Washington DC, throughout Israel, Poland and has been seen by over 210 million people worldwide as of 2023. The documentary was created by Gary and Hollywood actor Richard Lester To date the project is recognized for its unique heroic true story.
In 2012, Anthony founded United Voice Talent the first flat hourly voice over casting website, offering producers and directors the ability to search, cast and hire pre-qualified hourly voice over talent. The model is a unique "hourly rate" program unlike Pay-to-Play websites forcing talent to BID for work. Many of his peers are listed and members of this new hourly voice casting website.
Anthony also launched Cartoon Actors in 2013 offering hand-picked character voice actors for cartoons, animation and games at flat hourly rates. The site has quickly become another option of the union studios in LA and P2P websites offering only talent paying to be featured on their sites. Anthony hand picks and personally casts all talent on his site.
In summary as of 2022 voice over coach Anthony Reece has personally cast, directed, produced and voiced hundreds of radio and tv commercials, cartoons, cd-roms, personal audio memoirs, videos, multimedia products, radio shows, telephone messages, apps, ringtones, audio-books, children's stories and just about every other type of media there is today.
In March of 2023, Anthony launched the first 24/7 Internet Radio Broadcast for the voice over industry. The network feature hit music, and over 25 leading trainers, coaches and veteran voice over talent sharing advice, voice over tips, technology reviews, recording tips, industry news, marketing ideas, weekly events and more 24.7. Listen LIVE now at https://www.voradioonline.com
In August 2023, after 18 years training and coaching hundreds of voice talent at VO101, and producing as many voice over demos, Anthony created Video Voice Over Demos at the request of many voice talent asking for website video demos and YouTube video demos. 
With his 35-years experience, if you require a voice over coach, voice over business consultant, voice acting training, or voice over demo production, Anthony can deliver results taking your career to the next level and beyond.